For 37 years the Virginia Wineries Association has recognized the best wines produced in Virginia. The Governor's Cup has become one of the most rigorous competitions in the United States. On February 26th, Keswick Vineyards was honored to bring home 15 medals, 2 Gold Medals, 10 Silver Medals, and 3 Bronze Medals. Keswick Vineyards has participated in the Virginia Governor's Cup wine competition every year since 2004 and in that time has won at least one gold medal fourteen of the fifteen years; winning the Cup itself twice in 2009 and 2014. Winemaker Stephen Barnard is one of the few in Virginia who hold the title three Governor Cups having won in 2005, 2009 and 2014, all using Keswick Vineyards fruit.
The medal winners from the 2019 Virginia Governor's Cup are:
Gold
2016 Signature Series Cabernet Franc
2017 Touriga Estate Reserve
Silver
2017 Cabernet Franc
2016 Cabernet Sauvignon Estate Reserve
2017 Chardonnay
2017 Chardonnay Estate Reserve
2017 Merlot
2017 Petit Verdot
2017 Petit Verdot Estate Reserve
2017 Syrah
2017 Trevillian White
2017 Viognier
Bronze
2017 Cabernet Franc Estate Reserve
2016 Signature Series Chardonnay
2017 Signature Series Viognier


When is the best time to drink a Keswick Wine? Between 5 and 7pm of course. Seriously though, this has got to be the hardest question for me as the winemaker because I simply do not have a good answer. As a consumer you want to drink a wine at it's peak or at its full potential but very few wines are made with the intention of seeing 5-10 years in a bottle. I would rather someone drink our wine and realize that it still had a few more years of ageing potential versus wishing they had opened it years before.
It is true, I think there are certain wines we make that require some time to evolve and fully develop; but how much time is a bit of a mystery. It is a part of our winemaking process that I do not fully understand and one that I intend on studying and researching dilligently. This is how I at least justify the copious amounts of wine I drink to my wife, that the endeavor is a pursuit of knowledge and that I owe it to our customer base to give them accurate and detailed information. I do not think she buys that explanation at all!
It is also the way in which I make sense of purchasing 6 bottles of wine instead of just one. The idea is to drink a bottle every one to two years and track the evolution of the wine. To go back and look at all the factors involved in the growing of the grapes and making of the wine, and perhaps one day be able to answer the question with some level of assurance or confidence.
There are a lot of factors that can influence a wine's ability to age or rather should we say improve, namely vintage, varietal, acidity, extract and phenolic composition to name a few. In Virginia, the vintage is by far the most important of these factors in my opinion. Vintages like 9,10,14 and 17 will make wines that will age far more than those made in 3,11 and more notably in 18.
After two and half years in the bottle, I decided it was time to re-visit one of my favorite wines I have had the privelage of making here; our 2014 Cabernet Sauvignon Estate Reserve.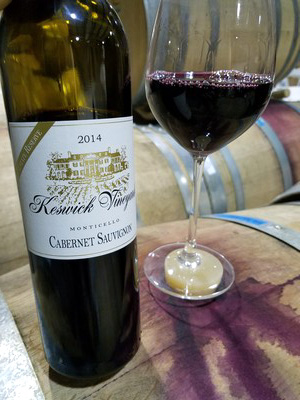 2014 was a wonderful vintage. The winter was notably cold and the spring notably wet, but following that, the sunshine was plentiful and the evening temperature cooler than normal, which allowed us to fully ripen our fruit as well retain some natural acidity which we often lack.
Looking back my initial notes, we harvested the fruit September 24th through the 28th at an average of 24.5 brix, all hand picked into small crates or lug boxes. The fruit was chilled for 24 hours before being de-stemmed and sorted, and then transferred to open top fermentation tanks. Fermentation occured naturally [without the addition of commerical yeast], and lasted 19 days with 4 daily punch downs. The free run and press wine was added together, settled for 48 hours in tank before being transferred to oak of which 52% was new. Maturation lasted 22 months and the wine was lightly filtered [7 micron] before being bottled with a free sulfur level of 35ppm.
More importantly my tasting notes indicated that this wine needed at least 3-5 years in the bottle and I boldly suggested that the optimum drinking window was 8-10 years and perhaps the wine would be fine up to 15 or so. Typical descriptors included darker fruits on the nose [plum, black currant and blueberries], I mentioned the tannins were soft but pronounced and that the acidity of the wine was higher than normal which suggested some ageing was necessary. Interestingly I made a side note that perhaps I could have dialed back the oak a little and I was eager to see how integrated the wine would be with time.
So, how is the wine doing after a few years in the bottle?
As I write this I have another glass on my desk [purely for inspiration purposes], although some might frown that it is only 7:30am in the morning. The wine is incredibly inky and uniform throughout the glass and there is no visual suggestion that the wine is showing any signs of premature ageing.
The nose is still intensely aromatic but I would add that there is a really interesting mint, violet or eucalyptus component which I find quite intriguing and pleasant. Of note, I do not pick up any green, vegetal or any pyrazine notes that might indicate slightly underripe fruit. There is a still a fair amount of oak on this wine and I get a big dose of tannin, but not bitter, chalky or astingent. Rather the tannins are quite soft and supple, but I still can taste the wine 2-3 minutes after I have swallowed, [should I be spitting?]
The fruit is there for sure and the wine is still quite primary although there is a bit of cedar, cigar box or almost pencil lead like character on the finish. Plenty of fruit, still very much dominated by dark fruit as opposed to red fruit.
I have always loved this wine and think that this wine should definitely see that 5-8 or 10 year window. Some questions remain about 10 years and beyond but with a case still tucked away, I will be sure to taste it and get back to you. Thank goodness I bought more than one bottle.
As a side note, I have attached a review by Robert Parkers wine advocate of the 2014, tasted 3 months after the wine was bottled
The 2014 Cabernet Sauvignon Estate Reserve was aged in French oak (52% new, with the remainder three years old or older). It comes in at 14% alcohol. Beautifully wrought, with some intensity of fruit flavor on the finish and velvety texture, this Cab has a hint of herbs on the nose. Its finish lingers nicely, the fruit showing both complexity and flavor. This is nicely done. The remaining question is how it will age and develop. 90 points.
Kind and Pleasant Drinking.

An important step and sometimes overlooked part of the vineyard cycle is dormant or winter pruning. This theoretically can be done as soon as the vine enters a stage of dormancy. Dormancy is a phase in a grapevine growth cycle which occurs after the grapevine drops it's leaves and ends in late winter to early spring. Dormancy phase helps vines to tolerate cold winter temperatures and has an important influence on grapevine flowering and vegetative growth in springtime. During the dormant phase, vines need to be exposed to enough hours of chill temperature for the bud break and normal spring growth to occur during the next season.
Grapevines at Keswick Vineyards are pruned in one of two ways, either cane or cordon, also referred to as spur.
Cane Pruning
---
In cane pruning, a permanent trunk is established, and each year two to four one-year-old canes are selected from the head of the vine, where the trunk and trellis wire intersect. These canes are tied or clipped to the wires out to opposite sides of the trunk, up to two per side, extending halfway to the adjacent plants. Each cane will carry approximately 8 to 10 buds. All other canes will be removed, save one or two renewal spurs four to six inches below the fruiting wire carrying one or two buds. These will provide fruiting canes for the following season.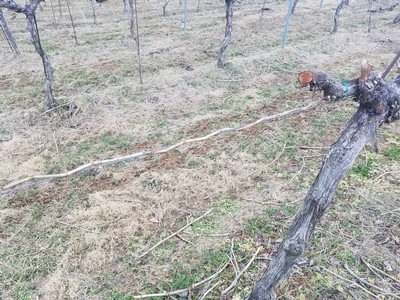 Cordon Pruning
---
In a cordon system, permanent arms, or cordons, are trained to extend from either side of the trunk extending from plant to plant. These will remain as the base for the one-year-old spurs that arise from various points along the cordon. These spurs will be pruned to approximately two to three buds long, evenly along the cordon, with all excess growth and unevenly placed spurs then removed.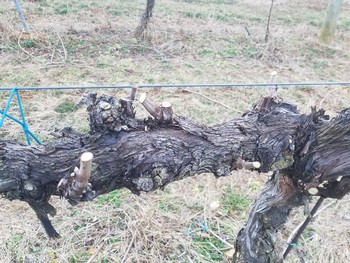 In years past we have always spur pruned our vines but have noticed a high incidence of phomopsis [dead arm] on our canes. Phomopsis is a disease caused by a deep-seated wood rot of the arms or trunk. Early in the growing season, the disease can delay the growth of the plant and cause leaves to turn yellow and curl. Small, brown spots on the shoots and leaf veins are very common first symptoms of this disease. Soil moisture and temperature can impact the severity of symptoms, leading to a systemic infection in warm, wet conditions. As the name of this disease suggests, it also causes one or more arms of the grapevine to die, often leading to death of the entire vine. As such, we have been laying one-year old canes down and cutting out the established cordon. Early signs hint that this is a helpful tool in minimizing the incidence of phomopsis; which leads to a healthier cane and better vine balance. Although more labor intensive, I foresee us adopting more cane pruning in the coming years.
In an ideal world I would prune as late as possible, but with almost 70 acres of vines to prune we must start in December to be able to finish before bud break; which usually occurs around the first or second week of April. Our approach is to prune oldest to youngest and leave our best blocks for last [usually our Cab Franc and Cab Sauv]. The amount of buds we leave is based on the variety as well the weight of the pruning material we remove. Our intention is to create a uniform and balanced vine, too many buds could lead to over cropping and poor fruit quality and too few buds could create a dense canopy which in turn could lead to higher disease pressure.
With only 6 more weeks to go before the onset of Spring, we are frantically trying to get the remaining vines pruned. Canes still need to be tied down to the wire, soils need to be limed and then hopefully mother nature plays her part and blesses us with a mild Spring and warmer temperatures. Never a dull moment on a farm, and that is just how we like it.

The Discoverer appeals to the world traveler in all of us; a modern travel guide. Their most recent blog post features ten United States wineries to visit this spring from all over the country including a Virginia vineyard, Keswick Vineyards.


Our job as winemakers is to reflect in a glass how and where the grape was grown. This concept of terroir encompasses all the variables of soil type, climate, rain, sunshine and the management of those factors. If we manage to grow the perfect grape, then at least we have the opportunity to make the best wine possible.
This is our mantra, along with the belief that our best wine is yet to be made and that we can always improve.
As of writing this, we are not quite done with our 16th harvest here at Keswick Vineyards, a harvest that will be looked back at in a few years as possibly being one of the best, if not the best of the last 15 years.
Making good wine is no longer acceptable to us, we need to make wines that are emotive, intuitive and are full of character and that all starts in the vineyard.
Our vineyard is special; it has proven to be so having produced grapes for 3 Governor's Cup winning wines in the past 12 years. The most outstanding of those grapes are the Bordeaux ones along with Viognier and Chardonnay. We are privileged to be stewards of this wonderful piece of wine real estate. After some careful research about our soils and elevation, we decided to expand our Bordeaux planting by 50% with new vines of Cabernet Franc, Cabernet Sauvignon and Petit Verdot being planted this past spring. It will take a few years before they start producing fruit and probably another 5-10 before they mature and really start producing the quality we are hoping for.
Some of the changes we have implemented have been to [1] increase the vine density per acre and [2] introduce multiple clones within the block to ensure a variety of flavors to work with
In the past we had 800 vines per acre and now we have 1200 vines per acre, which means that each vine has to produce 1/3 less fruit for us to achieve the desired tons per acre. We believe that by asking the vine to produce less, the quality of the grapes can only be improved which will result in better wines.
Clonal diversity is also important since each clone of the same grape can produce wines that are completely different. To use our Cabernet Franc as an example, we selected clones 214 [violet, raspberry, tannic with less herbaceous character] and clone 327 [more structured and brighter acidity]. Ultimately the goal is to create diversity that can be managed and vinified accordingly, creating more interesting and profound wines.
Thankfully we received adequate rainfall during the months of May and June; the young vines thrived in these conditions with very little need on our part to water.
Leading up to harvest, the growing season was pretty typical. We were spraying every 9-12 days as needed, disease pressure was kept in check and the Japanese beetles were testing our patience to the limit. Netting was put up to deter birds and deer and veraison started late July, into August.
Harvested started August 22nd which is about one week earlier than normal. Our Chardonnay is always the first to come off and that was taken off with mechanical harvester in the early hours of the morning. Our Chardonnay has been the white that has received the most attention since we are constantly trying to define our style. This year the juice was fermented in tank before being transferred to neutral French Oak barrels for ageing. We did experiment by using a new yeast and by not feeding the ferment as we normally do, favoring reductive winemaking instead, which is a style more common in Burgundy. Reduction in whites is gaining notoriety and things like flinty are a common association with this style of wine. For me, the Chardonnay is far more interesting, the palate is pretty tight and the nose complex. I also believe that this style will favor more time in the barrel and will warrant additional time in the bottle. This might be the best Chardonnay we have produced but for those that love oak and butter, this is not it. Ours is definitely leaner, showing more acidity than normal, the oak is subtle imparting more weight and texture versus primary oak character. Time will tell and our consumers will no doubt be the benchmark for how we rate this wine but I am pretty excited.
In years past we have produce up to 4 viognier wines, with Viognier also used in the V2 and Syrah blends. This year we have made a decision to produce only 2. Our viognier harvested in front of the manor house will comprise the regular estate bottling, and the block on the side of the property will make our Signature Series Viognier.
We have always found it hard to really make 4 distinctive wines, but we do have 2 distinctive blocks of Viognier. One is planted on clay and the other on schist and shale. They ripen differently and taste remarkably different, so we decided to express each wine individually. Our front viognier was machine harvested and has been tank fermented and will be tank matured. The Signature Series Viognier was hand harvested in 3 passes and while tank fermented, is now ageing in tank, stainless steel barrels as well as neutral French Oak barrels. The tank portion will retain the acidity of the Viognier, while the neutral oak will give the wine some texture. The Stainless steel barrels are equipped with interchangeable heads which allows us to introduce a small amount of oak and determine the type of oak used. This is the first time we have used these barrels and the results thus far are enthusing.
Our Signature Series this year is dynamite while the Viognier more than holds its own and is more typical of the wines produced in this area.
The whites this year are very elegant and focused, very clean and very pretty. They will offer immediate enjoyment and the Signature Series wines will reward some cellaring if you have the patience to lay those down.
We are mostly excited about our reds though.
Virginia experienced a drought during harvest which meant we are able to hang our reds and pick them at optimum ripeness. Ripeness is not just a measurement of sugar. We define ripeness by the color of the skins, the color of the seeds and how those tannins taste. We were fortunate enough to be able to pick all our fruit based on these parameters versus racing against the clock to beat the normal rains we get.
Merlot was the first red grape off the vine September 14th, followed closely by the Touriga. Cabernet Franc, Cabernet Sauvignon, and Petit Verdot grapes were only harvested October 8th, which is about 2-3 weeks later than normal.
All our Bordeaux reds were hand harvested and sorted before being transferred to either stainless steel tank and or T bins for fermentation. We made some subtle changes to the way we make our reds. Fermentation temperature rarely exceeds 88 degrees, punching down or pumping over the cap is occurring less often and the must is again starved of Nitrogen. Yeast selection is based on the [1] ability to ferment all the sugars [2] produce little VA or H2S and [3] require little Nitrogen to do its job.
All of these changes have resulted in wines that are a bit more fruit forward, slightly more interesting due to the fact that they are again in a reduced state. All our fermentations finished without any problems and pressing off was done directly to barrel, allowing us the opportunity to separate the press fractions. This will allow us the ability to track each fraction as they mature and give us more flexibility to blend later.
Most of the wines are now comfortably resting in barrel, just starting to go through the secondary fermentation, where the malic acid turns into lactic acid. These wines are dark and inky, the tannins are quite soft and supple and I think will turn out to be the best we have done so far.
Look out for the stellar Cabernet, PV and Merlot wines, they are all superb.
I get asked a lot of time about barrels and how we use them. We see oak in terms of salt and pepper for food. If you have a great protein you might add some spices to bring out the flavor of the protein and that is what we require from our barrels. We have moved to larger format barrel and use very little new oak. We do not want to mask the purity of these wines; we want you to taste the fruit of the Merlot, the spice of the Cabernet Franc and the licorice of the PV. The oak has to hold that all together without being too dominant.
It might be a bit too early to really gauge the strength of the vintage and quality of the wines, but all signs hint that what we have in the winery right now is quite special. Virginia has gone from strength to strength and I would like to think that Keswick is doing the same.
Lastly, I have quite a few people to thank as the success of the harvest is directly the product of hard work of many people.
Firstly I would like to thank Al and Cindy for allowing us the freedom to craft these wines and to go a little crazy and indulge our need for pushing the envelope, without their support we would not be able to progress.
To my wife Kathy, she holds everything together and is by far the most understanding, supportive and beautiful human in this world; I love you and will see you soon.
To Danny, Lewis, Gerardo, Izzy and Luis - Their work is crucial to these wines and I could not do it without them and thank them for their dedication.
Thank you to Chris Hill who has been instrumental in helping us get better
To Shannon, Kerry, Joan, Alease, Marina, Mr.Rich Stover and all of our wine club members that have helped us pick or sort, we really appreciate all your support.
And to the rest of our amazing staff, Brian, Karen, Meghan and others, our success is shared and we look forward to keep growing and getting better.
And to all our customers, we thank you for your continued support. We promise to continue striving to make the best wines possible and hope that these new 2017 wines will not disappoint. Wishing everyone a joyous Thanksgiving and blessed holiday season!
Kindly
Stephen Barnard and the entire Keswick Vineyards staff