February 23, 2019 | Winemaker's Blog | Stephen Barnard
Re-visiting a favorite wine of mine
When is the best time to drink a Keswick Wine? Between 5 and 7pm of course. Seriously though, this has got to be the hardest question for me as the winemaker because I simply do not have a good answer. As a consumer you want to drink a wine at it's peak or at its full potential but very few wines are made with the intention of seeing 5-10 years in a bottle. I would rather someone drink our wine and realize that it still had a few more years of ageing potential versus wishing they had opened it years before.
It is true, I think there are certain wines we make that require some time to evolve and fully develop; but how much time is a bit of a mystery. It is a part of our winemaking process that I do not fully understand and one that I intend on studying and researching dilligently. This is how I at least justify the copious amounts of wine I drink to my wife, that the endeavor is a pursuit of knowledge and that I owe it to our customer base to give them accurate and detailed information. I do not think she buys that explanation at all!
It is also the way in which I make sense of purchasing 6 bottles of wine instead of just one. The idea is to drink a bottle every one to two years and track the evolution of the wine. To go back and look at all the factors involved in the growing of the grapes and making of the wine, and perhaps one day be able to answer the question with some level of assurance or confidence.
There are a lot of factors that can influence a wine's ability to age or rather should we say improve, namely vintage, varietal, acidity, extract and phenolic composition to name a few. In Virginia, the vintage is by far the most important of these factors in my opinion. Vintages like 9,10,14 and 17 will make wines that will age far more than those made in 3,11 and more notably in 18.
After two and half years in the bottle, I decided it was time to re-visit one of my favorite wines I have had the privelage of making here; our 2014 Cabernet Sauvignon Estate Reserve.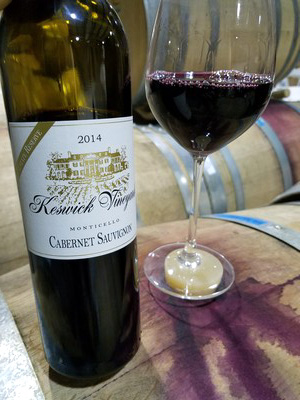 2014 was a wonderful vintage. The winter was notably cold and the spring notably wet, but following that, the sunshine was plentiful and the evening temperature cooler than normal, which allowed us to fully ripen our fruit as well retain some natural acidity which we often lack.
Looking back my initial notes, we harvested the fruit September 24th through the 28th at an average of 24.5 brix, all hand picked into small crates or lug boxes. The fruit was chilled for 24 hours before being de-stemmed and sorted, and then transferred to open top fermentation tanks. Fermentation occured naturally [without the addition of commerical yeast], and lasted 19 days with 4 daily punch downs. The free run and press wine was added together, settled for 48 hours in tank before being transferred to oak of which 52% was new. Maturation lasted 22 months and the wine was lightly filtered [7 micron] before being bottled with a free sulfur level of 35ppm.
More importantly my tasting notes indicated that this wine needed at least 3-5 years in the bottle and I boldly suggested that the optimum drinking window was 8-10 years and perhaps the wine would be fine up to 15 or so. Typical descriptors included darker fruits on the nose [plum, black currant and blueberries], I mentioned the tannins were soft but pronounced and that the acidity of the wine was higher than normal which suggested some ageing was necessary. Interestingly I made a side note that perhaps I could have dialed back the oak a little and I was eager to see how integrated the wine would be with time.
So, how is the wine doing after a few years in the bottle?
As I write this I have another glass on my desk [purely for inspiration purposes], although some might frown that it is only 7:30am in the morning. The wine is incredibly inky and uniform throughout the glass and there is no visual suggestion that the wine is showing any signs of premature ageing.
The nose is still intensely aromatic but I would add that there is a really interesting mint, violet or eucalyptus component which I find quite intriguing and pleasant. Of note, I do not pick up any green, vegetal or any pyrazine notes that might indicate slightly underripe fruit. There is a still a fair amount of oak on this wine and I get a big dose of tannin, but not bitter, chalky or astingent. Rather the tannins are quite soft and supple, but I still can taste the wine 2-3 minutes after I have swallowed, [should I be spitting?]
The fruit is there for sure and the wine is still quite primary although there is a bit of cedar, cigar box or almost pencil lead like character on the finish. Plenty of fruit, still very much dominated by dark fruit as opposed to red fruit.
I have always loved this wine and think that this wine should definitely see that 5-8 or 10 year window. Some questions remain about 10 years and beyond but with a case still tucked away, I will be sure to taste it and get back to you. Thank goodness I bought more than one bottle.
As a side note, I have attached a review by Robert Parkers wine advocate of the 2014, tasted 3 months after the wine was bottled
The 2014 Cabernet Sauvignon Estate Reserve was aged in French oak (52% new, with the remainder three years old or older). It comes in at 14% alcohol. Beautifully wrought, with some intensity of fruit flavor on the finish and velvety texture, this Cab has a hint of herbs on the nose. Its finish lingers nicely, the fruit showing both complexity and flavor. This is nicely done. The remaining question is how it will age and develop. 90 points.
Kind and Pleasant Drinking.
Comments
Commenting has been turned off.