When is the best time to drink a Keswick Wine? Between 5 and 7pm of course. Seriously though, this has got to be the hardest question for me as the winemaker because I simply do not have a good answer. As a consumer you want to drink a wine at it's peak or at its full potential but very few wines are made with the intention of seeing 5-10 years in a bottle. I would rather someone drink our wine and realize that it still had a few more years of ageing potential versus wishing they had opened it years before.
It is true, I think there are certain wines we make that require some time to evolve and fully develop; but how much time is a bit of a mystery. It is a part of our winemaking process that I do not fully understand and one that I intend on studying and researching dilligently. This is how I at least justify the copious amounts of wine I drink to my wife, that the endeavor is a pursuit of knowledge and that I owe it to our customer base to give them accurate and detailed information. I do not think she buys that explanation at all!
It is also the way in which I make sense of purchasing 6 bottles of wine instead of just one. The idea is to drink a bottle every one to two years and track the evolution of the wine. To go back and look at all the factors involved in the growing of the grapes and making of the wine, and perhaps one day be able to answer the question with some level of assurance or confidence.
There are a lot of factors that can influence a wine's ability to age or rather should we say improve, namely vintage, varietal, acidity, extract and phenolic composition to name a few. In Virginia, the vintage is by far the most important of these factors in my opinion. Vintages like 9,10,14 and 17 will make wines that will age far more than those made in 3,11 and more notably in 18.
After two and half years in the bottle, I decided it was time to re-visit one of my favorite wines I have had the privelage of making here; our 2014 Cabernet Sauvignon Estate Reserve.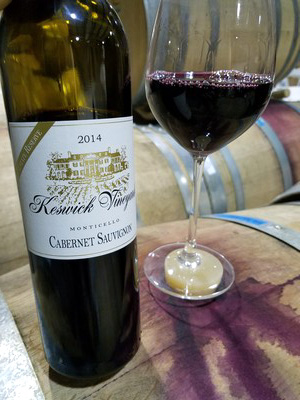 2014 was a wonderful vintage. The winter was notably cold and the spring notably wet, but following that, the sunshine was plentiful and the evening temperature cooler than normal, which allowed us to fully ripen our fruit as well retain some natural acidity which we often lack.
Looking back my initial notes, we harvested the fruit September 24th through the 28th at an average of 24.5 brix, all hand picked into small crates or lug boxes. The fruit was chilled for 24 hours before being de-stemmed and sorted, and then transferred to open top fermentation tanks. Fermentation occured naturally [without the addition of commerical yeast], and lasted 19 days with 4 daily punch downs. The free run and press wine was added together, settled for 48 hours in tank before being transferred to oak of which 52% was new. Maturation lasted 22 months and the wine was lightly filtered [7 micron] before being bottled with a free sulfur level of 35ppm.
More importantly my tasting notes indicated that this wine needed at least 3-5 years in the bottle and I boldly suggested that the optimum drinking window was 8-10 years and perhaps the wine would be fine up to 15 or so. Typical descriptors included darker fruits on the nose [plum, black currant and blueberries], I mentioned the tannins were soft but pronounced and that the acidity of the wine was higher than normal which suggested some ageing was necessary. Interestingly I made a side note that perhaps I could have dialed back the oak a little and I was eager to see how integrated the wine would be with time.
So, how is the wine doing after a few years in the bottle?
As I write this I have another glass on my desk [purely for inspiration purposes], although some might frown that it is only 7:30am in the morning. The wine is incredibly inky and uniform throughout the glass and there is no visual suggestion that the wine is showing any signs of premature ageing.
The nose is still intensely aromatic but I would add that there is a really interesting mint, violet or eucalyptus component which I find quite intriguing and pleasant. Of note, I do not pick up any green, vegetal or any pyrazine notes that might indicate slightly underripe fruit. There is a still a fair amount of oak on this wine and I get a big dose of tannin, but not bitter, chalky or astingent. Rather the tannins are quite soft and supple, but I still can taste the wine 2-3 minutes after I have swallowed, [should I be spitting?]
The fruit is there for sure and the wine is still quite primary although there is a bit of cedar, cigar box or almost pencil lead like character on the finish. Plenty of fruit, still very much dominated by dark fruit as opposed to red fruit.
I have always loved this wine and think that this wine should definitely see that 5-8 or 10 year window. Some questions remain about 10 years and beyond but with a case still tucked away, I will be sure to taste it and get back to you. Thank goodness I bought more than one bottle.
As a side note, I have attached a review by Robert Parkers wine advocate of the 2014, tasted 3 months after the wine was bottled
The 2014 Cabernet Sauvignon Estate Reserve was aged in French oak (52% new, with the remainder three years old or older). It comes in at 14% alcohol. Beautifully wrought, with some intensity of fruit flavor on the finish and velvety texture, this Cab has a hint of herbs on the nose. Its finish lingers nicely, the fruit showing both complexity and flavor. This is nicely done. The remaining question is how it will age and develop. 90 points.
Kind and Pleasant Drinking.

An important step and sometimes overlooked part of the vineyard cycle is dormant or winter pruning. This theoretically can be done as soon as the vine enters a stage of dormancy. Dormancy is a phase in a grapevine growth cycle which occurs after the grapevine drops it's leaves and ends in late winter to early spring. Dormancy phase helps vines to tolerate cold winter temperatures and has an important influence on grapevine flowering and vegetative growth in springtime. During the dormant phase, vines need to be exposed to enough hours of chill temperature for the bud break and normal spring growth to occur during the next season.
Grapevines at Keswick Vineyards are pruned in one of two ways, either cane or cordon, also referred to as spur.
Cane Pruning
---
In cane pruning, a permanent trunk is established, and each year two to four one-year-old canes are selected from the head of the vine, where the trunk and trellis wire intersect. These canes are tied or clipped to the wires out to opposite sides of the trunk, up to two per side, extending halfway to the adjacent plants. Each cane will carry approximately 8 to 10 buds. All other canes will be removed, save one or two renewal spurs four to six inches below the fruiting wire carrying one or two buds. These will provide fruiting canes for the following season.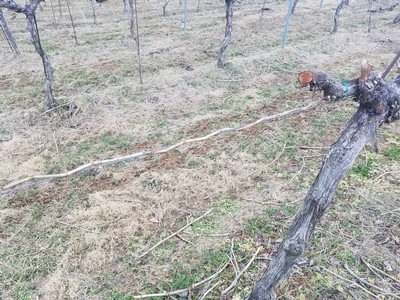 Cordon Pruning
---
In a cordon system, permanent arms, or cordons, are trained to extend from either side of the trunk extending from plant to plant. These will remain as the base for the one-year-old spurs that arise from various points along the cordon. These spurs will be pruned to approximately two to three buds long, evenly along the cordon, with all excess growth and unevenly placed spurs then removed.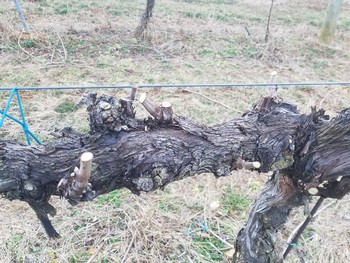 In years past we have always spur pruned our vines but have noticed a high incidence of phomopsis [dead arm] on our canes. Phomopsis is a disease caused by a deep-seated wood rot of the arms or trunk. Early in the growing season, the disease can delay the growth of the plant and cause leaves to turn yellow and curl. Small, brown spots on the shoots and leaf veins are very common first symptoms of this disease. Soil moisture and temperature can impact the severity of symptoms, leading to a systemic infection in warm, wet conditions. As the name of this disease suggests, it also causes one or more arms of the grapevine to die, often leading to death of the entire vine. As such, we have been laying one-year old canes down and cutting out the established cordon. Early signs hint that this is a helpful tool in minimizing the incidence of phomopsis; which leads to a healthier cane and better vine balance. Although more labor intensive, I foresee us adopting more cane pruning in the coming years.
In an ideal world I would prune as late as possible, but with almost 70 acres of vines to prune we must start in December to be able to finish before bud break; which usually occurs around the first or second week of April. Our approach is to prune oldest to youngest and leave our best blocks for last [usually our Cab Franc and Cab Sauv]. The amount of buds we leave is based on the variety as well the weight of the pruning material we remove. Our intention is to create a uniform and balanced vine, too many buds could lead to over cropping and poor fruit quality and too few buds could create a dense canopy which in turn could lead to higher disease pressure.
With only 6 more weeks to go before the onset of Spring, we are frantically trying to get the remaining vines pruned. Canes still need to be tied down to the wire, soils need to be limed and then hopefully mother nature plays her part and blesses us with a mild Spring and warmer temperatures. Never a dull moment on a farm, and that is just how we like it.

Our job as winemakers is to reflect in a glass how and where the grape was grown. This concept of terroir encompasses all the variables of soil type, climate, rain, sunshine and the management of those factors. If we manage to grow the perfect grape, then at least we have the opportunity to make the best wine possible.
This is our mantra, along with the belief that our best wine is yet to be made and that we can always improve.
As of writing this, we are not quite done with our 16th harvest here at Keswick Vineyards, a harvest that will be looked back at in a few years as possibly being one of the best, if not the best of the last 15 years.
Making good wine is no longer acceptable to us, we need to make wines that are emotive, intuitive and are full of character and that all starts in the vineyard.
Our vineyard is special; it has proven to be so having produced grapes for 3 Governor's Cup winning wines in the past 12 years. The most outstanding of those grapes are the Bordeaux ones along with Viognier and Chardonnay. We are privileged to be stewards of this wonderful piece of wine real estate. After some careful research about our soils and elevation, we decided to expand our Bordeaux planting by 50% with new vines of Cabernet Franc, Cabernet Sauvignon and Petit Verdot being planted this past spring. It will take a few years before they start producing fruit and probably another 5-10 before they mature and really start producing the quality we are hoping for.
Some of the changes we have implemented have been to [1] increase the vine density per acre and [2] introduce multiple clones within the block to ensure a variety of flavors to work with
In the past we had 800 vines per acre and now we have 1200 vines per acre, which means that each vine has to produce 1/3 less fruit for us to achieve the desired tons per acre. We believe that by asking the vine to produce less, the quality of the grapes can only be improved which will result in better wines.
Clonal diversity is also important since each clone of the same grape can produce wines that are completely different. To use our Cabernet Franc as an example, we selected clones 214 [violet, raspberry, tannic with less herbaceous character] and clone 327 [more structured and brighter acidity]. Ultimately the goal is to create diversity that can be managed and vinified accordingly, creating more interesting and profound wines.
Thankfully we received adequate rainfall during the months of May and June; the young vines thrived in these conditions with very little need on our part to water.
Leading up to harvest, the growing season was pretty typical. We were spraying every 9-12 days as needed, disease pressure was kept in check and the Japanese beetles were testing our patience to the limit. Netting was put up to deter birds and deer and veraison started late July, into August.
Harvested started August 22nd which is about one week earlier than normal. Our Chardonnay is always the first to come off and that was taken off with mechanical harvester in the early hours of the morning. Our Chardonnay has been the white that has received the most attention since we are constantly trying to define our style. This year the juice was fermented in tank before being transferred to neutral French Oak barrels for ageing. We did experiment by using a new yeast and by not feeding the ferment as we normally do, favoring reductive winemaking instead, which is a style more common in Burgundy. Reduction in whites is gaining notoriety and things like flinty are a common association with this style of wine. For me, the Chardonnay is far more interesting, the palate is pretty tight and the nose complex. I also believe that this style will favor more time in the barrel and will warrant additional time in the bottle. This might be the best Chardonnay we have produced but for those that love oak and butter, this is not it. Ours is definitely leaner, showing more acidity than normal, the oak is subtle imparting more weight and texture versus primary oak character. Time will tell and our consumers will no doubt be the benchmark for how we rate this wine but I am pretty excited.
In years past we have produce up to 4 viognier wines, with Viognier also used in the V2 and Syrah blends. This year we have made a decision to produce only 2. Our viognier harvested in front of the manor house will comprise the regular estate bottling, and the block on the side of the property will make our Signature Series Viognier.
We have always found it hard to really make 4 distinctive wines, but we do have 2 distinctive blocks of Viognier. One is planted on clay and the other on schist and shale. They ripen differently and taste remarkably different, so we decided to express each wine individually. Our front viognier was machine harvested and has been tank fermented and will be tank matured. The Signature Series Viognier was hand harvested in 3 passes and while tank fermented, is now ageing in tank, stainless steel barrels as well as neutral French Oak barrels. The tank portion will retain the acidity of the Viognier, while the neutral oak will give the wine some texture. The Stainless steel barrels are equipped with interchangeable heads which allows us to introduce a small amount of oak and determine the type of oak used. This is the first time we have used these barrels and the results thus far are enthusing.
Our Signature Series this year is dynamite while the Viognier more than holds its own and is more typical of the wines produced in this area.
The whites this year are very elegant and focused, very clean and very pretty. They will offer immediate enjoyment and the Signature Series wines will reward some cellaring if you have the patience to lay those down.
We are mostly excited about our reds though.
Virginia experienced a drought during harvest which meant we are able to hang our reds and pick them at optimum ripeness. Ripeness is not just a measurement of sugar. We define ripeness by the color of the skins, the color of the seeds and how those tannins taste. We were fortunate enough to be able to pick all our fruit based on these parameters versus racing against the clock to beat the normal rains we get.
Merlot was the first red grape off the vine September 14th, followed closely by the Touriga. Cabernet Franc, Cabernet Sauvignon, and Petit Verdot grapes were only harvested October 8th, which is about 2-3 weeks later than normal.
All our Bordeaux reds were hand harvested and sorted before being transferred to either stainless steel tank and or T bins for fermentation. We made some subtle changes to the way we make our reds. Fermentation temperature rarely exceeds 88 degrees, punching down or pumping over the cap is occurring less often and the must is again starved of Nitrogen. Yeast selection is based on the [1] ability to ferment all the sugars [2] produce little VA or H2S and [3] require little Nitrogen to do its job.
All of these changes have resulted in wines that are a bit more fruit forward, slightly more interesting due to the fact that they are again in a reduced state. All our fermentations finished without any problems and pressing off was done directly to barrel, allowing us the opportunity to separate the press fractions. This will allow us the ability to track each fraction as they mature and give us more flexibility to blend later.
Most of the wines are now comfortably resting in barrel, just starting to go through the secondary fermentation, where the malic acid turns into lactic acid. These wines are dark and inky, the tannins are quite soft and supple and I think will turn out to be the best we have done so far.
Look out for the stellar Cabernet, PV and Merlot wines, they are all superb.
I get asked a lot of time about barrels and how we use them. We see oak in terms of salt and pepper for food. If you have a great protein you might add some spices to bring out the flavor of the protein and that is what we require from our barrels. We have moved to larger format barrel and use very little new oak. We do not want to mask the purity of these wines; we want you to taste the fruit of the Merlot, the spice of the Cabernet Franc and the licorice of the PV. The oak has to hold that all together without being too dominant.
It might be a bit too early to really gauge the strength of the vintage and quality of the wines, but all signs hint that what we have in the winery right now is quite special. Virginia has gone from strength to strength and I would like to think that Keswick is doing the same.
Lastly, I have quite a few people to thank as the success of the harvest is directly the product of hard work of many people.
Firstly I would like to thank Al and Cindy for allowing us the freedom to craft these wines and to go a little crazy and indulge our need for pushing the envelope, without their support we would not be able to progress.
To my wife Kathy, she holds everything together and is by far the most understanding, supportive and beautiful human in this world; I love you and will see you soon.
To Danny, Lewis, Gerardo, Izzy and Luis - Their work is crucial to these wines and I could not do it without them and thank them for their dedication.
Thank you to Chris Hill who has been instrumental in helping us get better
To Shannon, Kerry, Joan, Alease, Marina, Mr.Rich Stover and all of our wine club members that have helped us pick or sort, we really appreciate all your support.
And to the rest of our amazing staff, Brian, Karen, Meghan and others, our success is shared and we look forward to keep growing and getting better.
And to all our customers, we thank you for your continued support. We promise to continue striving to make the best wines possible and hope that these new 2017 wines will not disappoint. Wishing everyone a joyous Thanksgiving and blessed holiday season!
Kindly
Stephen Barnard and the entire Keswick Vineyards staff

As we enter the first official day of Spring, we generally reflect on the harvest that was and evaluate the wines as they continue to age or, in our case, finish their secondary fermentation in barrel. It allows us as winemakers to take a critical look at the wines and to judge if harvest decisions and processing protocols were beneficial and if the wines are truly reflective of the vintage as we hoped they would be. I spent a great deal of time with the wines this past weekend, evaluating not only the different varietals, but also the barrels they were in to see how the oak was impacting the wine. I am very pleased to state that I am thrilled with how the wines are developing, and how much more developed they are at this point than they normally are. To understand the strength of the vintage, you have to understand the growing season we had in Charlottesville, Virginia. The key point for me was the much cooler than normal May and June. With evening temperatures in the 50's the fruit was able to retain a lot of its natural acidity, reflected in the harvest chemistry. Acidity for me is a key component in wine, and is arguably one of the things I focus the most on. In cooler growing seasons as was 2014, I find the aromatics of the wine to be that much more pronounced and the wines tend to have a focus and juiciness as opposed to warm vintages. The other benefit is that we deal with lower pH must or juice, which is perfect for us since we ferment most of our wines without the addition of any commercial yeast. This low pH [higher acidity] environment makes it much harder for bacteria to grow and makes it much easier to ferment wines to dryness with the native yeast in the winery. I often get asked why we tend to go this route and the answer is quite simple. As a winemaker, I am aiming to reflect in a glass the manner in which the fruit was grown as opposed to how it was manipulated or made in the winery. I am a firm believer in the notion that the best fruit makes the best wine, while also making wine that is unique and special. My job therefore is to respect the character given to me by the vineyard, and not interfere too much.
Starting off with the whites 2014 Chardonnay: It is not that I do not like the occasional buttery, oak driven Chardonnay. I think there is a time and place for such wines. I truly believe though that the market place is shifting towards more fresher styled wines, wines that showcase minerality or steeliness as opposed to weight and rich textures. Our Chardonnay style is driven by our fruit and the soil on which it is grown. Our Chardonnay grows on fragmented rock, with shale and limestone littering the parcel. If you crack those rocks together, you almost get a saltiness in your nose, it is this character that I want in our wines. We have moved away from barrel fermentation, opting to ferment in tank where fermentation temperatures can be controlled and thus drawn out to about a month before they completely use up all the sugar. By extending the fermentation period upwards, we can essentially create wines that are more linear and focused, while creating aromatics that are clean and more subtle. Our oak regimen is that we exclusively use French oak, but are working more with larger format barrels. Essentially we do not want you swallowing a 2 x 4 when you taste the wine, we want the oak to lift or support the fruit, integrating with those stony fruit, apple and tangerine flavors. Our 2014 is everything we hoped it would be; fresh and vibrant with wonderful acidity, and just a kiss of oak that elevates the fruit and keeps everything in balance. Earmarked for August bottling, this might be the best Chardonnay we have ever produced.
2014 Viognier: The state grape of Virginia, that has come under fire of recent time due to its struggles in the vineyard. Highly prone to frost and bud damage, our 16 acre took quite a hit and we ended up with a minuscule amount of fruit. The positive is that the quality was amazing, and we were able to pick clean fruit that was wonderfully ripe. Viognier is such an intoxicating wine, and you immediately get loads of tropical aromas as you press the fruit. With such little fruit, we did not have the ability to experiment and this year we opted for a tank fermented, barrel matured version. I felt that the acidity of the wine could stand up to some three-year old barrels, and we could build up some nice texture on the palate. There is a lot of discussion among winemakers as to what the exact style of Viognier should be, many choosing to use more tank fermented wines in their final blend, sometimes with just a touch of sweetness, Our version is bone dry, has the typical aromas of the grape but will also be able to see a few years in the bottle due to the influence of oak. At a recent tasting of some of Virginia's finest Viognier wines, I favored ours that were 4-5 years old, proving to me that our wines are built to last. In the world of accessibility and the drink it now mentality, the 14 will offer immediate gratification, but will reward patience for those that can wait and prove to be a stunning wine in a few years.
The big Reds It is hard not to get excited about red wines when you get fruit that is ripe, clean and picked whenever you wanted. Other than Merlot, I was extremely happy with the quality of fruit across the board, especially for the Cabernet Sauvignon and Petite Verdot. 2014 Cabernet Sauvignon: Arguably the king of reds and one that cannot ripen in Virginia if you believe conventional wisdom. Many believe the focus should be given to Cabernet Franc, Petite Verdot or Tannat. The beauty of theories is that there will always be exceptions to the rule and in our case, we more often than not can get ripe Cabernet Sauvignon into the winery. The winemaking process after that is relatively quite simple. The fruit is meticulously hand sorted, ensuring that only the best berries make it into the fermentation tank. We painstakingly discard all under ripe fruit, stems and leaves that may have passed through the de-stemmer. As with all our high-end wines, we choose to allow the fermentation to begin and finish naturally. We monitor the wines very carefully, punch the cap down judiciously and frequently to extract as much color as possible and we pay careful attention to the way in which we press the skins. It is well know that there is a qualitative difference between free run and press fraction wine. In years gone past, we would just set the press to a program and allow the press to do its thing. We now however run the press manually and press over a longer period and more gently. By tasting the press wine, we can determine at which point the various lots should be separated and how they should be aged. Our two lots of Cabernet received a fair amount of press wine this year, since the tannins were so ripe, supple and silky. The press wine gave the wines some serious backbone which for the style we make is somewhat needed. I am so excited about the 14 vintage Cabs. One lot is in 100% French oak barrels, all manufactured by Mercier and what a huge blockbuster of a wine. Dark and inky, with lots of blue and purple fruit on the nose. The oak is there but it is meshing nicely with the fruit of the wine and there is an underlying acidity to the wine that keeps the wine quite light on its feet which I find really attractive. This is not a wine that will see a bottle soon, earmarked for bottling in 2016 after 22 months in oak. I predict that it will need at least five years in the bottle before it realizes it's potential. BY FAR, the best Cabernet we have ever made in my opinion, and we have made some good ones recently.
Our second lot of Cabernet is maturing in slightly older barrels, since this wine is historically always the most aromatic of the two. With blending of the two lots common, the first lot is the structural backbone of the wine, while this sucks you in with gorgeous aromatics. Hard to pick a favorite of the two since they are both so good, albeit for different reasons.
Traditionally a blending grape in the world of wine, but taking quite the center stage in Virginia. I sit on the fence with this one a little since I still see its value in blends versus a stand alone varietal wine. It has great tannic structure and dark flavors but sometimes lacks the finesse I search for in wines. If however, you are one of those that does not mind laying these wines down for a few years, PV can be quite the charming wine. Our 14 will be a bit too much for some in its youth, incredibly tannic and dry at this point in time, it will require some bottle time to soften up and reveal itself. We have used some tight grain French barrels for this wine, two to three years old to respect the fruit. I was playing with the idea of American oak but decided that it did not need more sweetness which American oak sometimes imparts. But my word, this wine is rich and dense and unapologetic-ally big. Plan on having this with a cigar or steak, you are going to need it.
I am always highly critical of this varietal, partly because I am still learning how to make it since it is mainly used in blending. I am not a big fan of herbaceous flavors in red wines, and too often I find Cabernet Franc wines that quite frankly have been either picked too early, or have been badly managed in the fermentation stage. The tannins can be quiet astringent and chalky, leading to flavors of bell pepper and wet leaves, devoid of any fruit. It is a style I try not to make so we really try to hang our fruit as long as possible to mask those greener flavors if we can. Quite often, this grape comes in late September and this year we were able to let it hang 10 days longer than our historical average. I was really looking for a change in tannins and flavors, not really worried about sugars and acid. The point at which the flavors are more spicy, with black pepper is when we pick. Thoroughly sorted we have a different approach to fermentation versus the other Bordeaux varietals. I like to ferment a little cooler and most often we press off prior to fermentation being completed, trying to manage the tannin extraction or more specifically the type of tannins we extract. Our barrel regimen focuses more on American oak, using the natural sweetness of the barrel to mask or cover up the slightly greener tannins you can get. I do have two brand new French oak barrels in the program this year for research purposes and I really like them. They will blended back into the final lot but it would be interesting to see if those barrels would have such a positive influence in a greener or wetter year. With this wine earmarked for early bottling and release, we need to ensure the wine is ready for the market place, so we will be paying careful attention to the oak influence and how big the wine can become. I have to say it is the best version we have ever made though, if you like spicy wines showcasing more red fruit characteristics.
Overall Assessment: WOW, from what I hear from other producers the 2014 will certainly rank as one of the finest in recent memory and consumers can look forward to these wines as they start making their way onto tasting room shelves. Since our philosophy is to allow the fruit to dictate the direction of the wines, our wines are highly extracted, rich, lush and will require some ageing for them to fully develop. I am not saying that they will not be good immediately, they will be, but they will be incredible with some time. These are the wines you should stockpile your cellar with, I know I will be. I almost forgot, I did also taste our 2013 Cabernet Sauvignon wine as it enters its 16 month in barrel. Holy moly this wine has come along beautifully. It is very similar to our 2009 version, with a core of dark fruit but built on a frame that exudes finesse and elegance as opposed to sheer power and strength. I feel like a stuck record but again, this wine will delight in its youth but will blow you away with some time in the bottle. Virginia definitely has its ups and down when it comes to wine and vintage variability. I am glad to report that 2014 is definitely an up year, just wish we had more wine. But hey, do not take my word for it, come taste the wines with me at our May 9th and 10th barrel tasting. Call our tasting room and join me for an in-depth tasting of some of the finest wines we have ever produced. Space is limited so call now to reserve your space.
I lastly want to thank my guys in the vineyard for working so hard and getting this vintage done. to Jeremy, Lewis, Luis and Steve, I owe you a debt of gratitude for all your time and effort, hopefully these wines make you proud and justify all your hard work. Also to my wonderful wife who keeps things ticking in my absence and supporting me throughout, I love you and could not do this without you, I'll try to be home a touch more before the next harvest starts.
Take care,
Stephen Barnard
Winemaker
Keswick Vineyards

My fellow wine lovers, I greet you after what has been an exhausting harvest here at Keswick Vineyards. Even as I write this, we still have fermenting wines that need close monitoring and ultimately pressing off to barrel. Hopefully at this point we should be done in the next few weeks.
The big question from our customers and wine club members is, "How was the Harvest?" Well I am happy to report that all signs point to it potentially being one of the best yet! I am especially thrilled about the quality of the red wines and have already publicly stated that I believe the 2014 Cabernet Sauvignon will be even better than the Governors Cup Winning 2007, and the multiple gold winning 2009 and 2010 wines. I said that about the 2013 Cabernet that is still aging in barrel, but the 2014 wine has me really excited. I tend to be rather reserved about the wines at this stage, knowing that there is still a lot of developing they have to do before we can really assess the strength of the vintage; but rarely have I see our wines to be this explosive so early in the process.
The biggest question is how to keep improving on these wines and what factors have led to such a wonderful harvest. The answer lies in three important factors [1] Mother Nature [2] The actual vineyard and [3] The wine-making process.
[1] Mother Nature:
We are at the mercy of all things weather, the rainfall, the sunlight, and length of the growing season. It is ultimately the quality of the growing season that determines the potential of the wines. Great wines can not be made from poor fruit. Think of Bordeaux and the great vintages of 2000, 2005, 2009 and 2010, where the growing season allowed the winemaker to make incredible wines.

Bud break at Keswick Vineyards occurred April 7th, which is quite typical for us. With bud break comes the threat of spring frosts and we negated three frost days through the use of fans, fires and spraying. Unfortunately, our Viognier took quite a pounding from the nasty winter and we already knew that our crop would be considerably less than normal. The great news is that all other varietals were in great shape, buds were healthy and fruitful. Through the course of the season we dealt with moderate temperatures, adequate rainfall and very little disease pressure. This allowed us to cut our sprays down to 11-14 day intervals while spraying the least amount of material in order to be the most effective. The evenings were cool which preserved the natural acidity and kept the fruit firm and intact, another factor in fruit surviving late season rains.
[2] The Vineyard:
Our vineyard was planted in 2000 and is now reaching some sort of maturity. After 15 years in the ground, we should really start seeing some quality fruit come off the various blocks. Initially young vineyards are very vigorous, producing not only a tremendous amount of foliage, but potentially a big heavy crop too. Sounds good unless the fruit is not quite ripe and leads to herbaceous, vegetal wines. Since we are in the wine growing business, our ultimate goal is find the right balance between amount of fruit and quality of fruit, with more emphasis placed on quality. We are now at a point where the vines are balanced, roots are deep and established and the vines healthy. We can now start assessing the various flavor profiles, the subtle nuances between the rows, elevation differences and exposures. Instead of dealing with macro climates [general area like Albemarle] or Mesoclimate [difference between various blocks] we have now focused on the Microclimate [the differences within the actual row itself].
Is there really a huge difference between East facing and West facing fruit, or vines that are at elevation differences? ABSOLUTELY! Factor in the soil variances, the changing topography, the tree line and the effect of sunshine on the canopy, what you essentially get is a difference in chemistry and flavor profile. We measured the sugar of Cabernet Franc at one end of the row at 21 and at the other end we got 18, that is a huge swing and you could taste the difference too. In years past, we would just pick the Cabernet Franc, now we pick certain vines, certain sections are allowed more time to mature, certain vines get more leaf removal or get pruned a different way. In the winery we get more components with which to work, wines are assembled piece by piece and although they will eventually be 100% of a certain varietal, may consist of 6 different components.
If "Terroir" refers to a sense of place, then it is our responsibility to identify what it is about our vineyard that is unique. We then also need to ensure that we communicate those differences in our wine, preserving the notion that great wines indeed are an expression of the vineyard versus the hand of the winemaker.
Over the course of the vineyards young life, we have identified various blocks as producing better quality fruit than others. Anecdotally, we have tasted wines that are just better and year after year, fruit from various parcels have been kept separate or vinified as a Reserve or designated to be a higher quality. To better understand why this might be, with the help of a company called Resource Reconnaissance we have been using drones to map our vineyard, to identify the various soil types and to photograph the ripening process from the air. After months of data collection, we discovered that all our perceived highest quality blocks were planted on a very unique soil: residuum from sericite schist, phyllite, or other fine-grained metamorphic rocks. These soils are incredibly well-drained and are mainly found on slopes of 10-20 degree gradients. Our vines planted on these soils have incredibly deep root systems, have better tolerance to climatic variations, and, most importantly, produce high quality fruit albeit in lower quantities. This discovery is significant in that it proves what we always thought, that there is a factor in why this fruit is infinitely better than others. It also allows us to search for this soil for future plantings.
[3] The Winemaking:
While the essence of a wine can be traced back to the vineyard, the fact remains that the winemaker has to ensure the quality of the fruit is reflected in the finished product. Luckily for me, I had the privilege of working with amazing fruit. Our reds in particular were stunning which certainly makes the winemaking part a little easier. It is no secret that I tend to favor a hands off approach and this year allowed to me do just that.
As always, we sorted our fruit after de-stemming to remove any leaves, stems or berries that were un-desirable. This is an investment in time with roughly an hour spent sorting half a ton of fruit. With 7 tons of Cabernet in the refrigerated truck, that is many hours spent on the sorting table. So why do we do it? If we can improve the quality of fruit by just 5% that goes into the fermentor, the resulting wine can only be that much better. We feel that since we get one shot a year at this, it is worth it. We have followed a very basic philosophy of no sulfur, natural fermentations and punching down the cap where possible although we backed off how many times we punched per day. We continue to ferment a little cooler in years gone by and we do no post fermentation maceration. I felt that the wines tended to show a coarse edge, requiring a great deal of barrel and bottle time to fully integrate. As such, we pressed all our wines off after fermentation and separated the free and press sections as deemed necessary. Since most of the wines have no sulfur whatsoever, we are inoculating for secondary fermentation by adding Lactic Acid Bacteria.
The wines are a little shy at the moment and fairly tight, they will need a few months in barrel before they reveal their true potential and characteristics. What I can reveal at this stage is that the colors are deep and inky and the wines are extremely well-balanced. They are showing a lot more texturally than in the past, with tannins well-integrated with fruit at this early stage. I will have to be careful not to over oak the wine. Along with the Cabernet Sauvignon, Petit Verdot, Chardonnay and Cabernet Franc all look exceptional and point to being some of the best ever produced at the Estate.
If they turn out how we feel they will, thank mother nature and our amazing vineyard, for that is where the wines were truly made this year. My job was just to not screw it up.

One last note:
I would like to take this opportunity to thank my entire crew who have worked tirelessly with me to ensure this harvest went off as smoothly as possible. Their hard work and dedication is very much appreciated and I hope I can do them proud by making wines that are reflective of their passion. To Jeremy, Lewis, Luis, Dakoda and Steve, thank you very much for everything, you guys have been a pleasure to work with and you have made my job a lot easier.
A big thank you to all our wine club members and customers who keep supporting us and allowing us to make these wonderful wines.
Kindly
Stephen Barnard and team
Winemakers and Vineyard Managers at Keswick Vineyards

Cabernet Sauvignon is arguably the worlds most recognized grape variety, grown in nearly all of the major wine-producing countries in the world. Planted in a variety of climates, the grape first came to prominence in Bordeaux and forms the backbone of some of the most sought after left bank wines, typically blended with Merlot and Cabernet Franc. From France, the grape spread across to the New World to places like Napa Valley, Australia and South Africa. Napa Valley today is probably the single most recognized place where true expressions of Cabernet are currently produced, sometimes blended with Petite Verdot or Merlot, but most often as a single stand alone varietal wine. In 1996, researchers at UC Davis California determined that Cabernet Sauvignon was the offspring of Cabernet Franc and Sauvignon Blanc, most likely a chance crossing that occurred in the 17th century. For many years the origins of Cabernet were not understood. The word Sauvignon was believed to be derived from the French word "sauvage" meaning wild, suggesting that it was a wild Vitis Vinifera native to France. Being the offspring of Cabernet Franc and Sauvignon Blanc makes sense since Cabernet wines can display the typical characteristics of both of its parents. In certain cases, the wines can show the spicy and pencil lead character of the Franc and in cooler climates, the more greener grassier side of Sauvignon Blanc. Until the 1990's, when it was surpassed by Merlot, Cabernet was the most widely planted red grape variety in the world.
Varietal wine or as part of a blend?
The answer to this question, in my opinion, is determined in large part by the climate in which the grape grows. As a late budding variety and hence later ripening than Merlot or Cabernet Franc, a warmer climate with plenty of sunshine is needed to fully ripen the fruit. In cooler climates where Cabernet might come off the vine a touch early, blending components are added to the wine to create a balanced wine. In some cases you might blend Merlot for fruit character and softening of tannins, Petite Verdot might be used for color and Cabernet Franc might be added for structure and added depth. There is definitely an art to blending and the final blend will vary based on the style of the winery or the vintage quality. Yet for many New World winemakers, there is nothing more satisfying than creating a world-class Cabernet, a stand alone that can convey everything about the vineyard, the growing season and the subtle hand of the winemaker.
Cabernet in Virginia
Of course, I am not making wine in Napa Valley. I am making wine in Virginia, where the climate is not really known for being conducive to growing and making Cabernet. Virginia averages about 48 inches of rain per year, as opposed to the 15-20 inches in Napa Valley. Tropical storms and hurricanes normally affect Virginia in August and September and account for roughly 40% of all the rainfall during that period. It also just happens to coincide with the time period where our red grapes are starting to reach full maturity. More often than not, rain dictates a premature picking of our Cabernet- which explains why most wines made in Virginia that contain the grape are blends. Very few varietal wines are made, and if they are made it is often only in exceptional years such as 2010.
Keswick Vineyards Cabernet
At Keswick Vineyards, we had three specific blocks of Cabernet planted on the estate. We now have two since we pulled one block up due to the fact that vineyard and fruit really did not perform as hoped. Even though we have been making wine since 2002, it was only in 2007 that we first made Cabernet based wines. Our 2007 Cabernet, blended with Merlot and bottled after 10 months in oak, went on to win the Virginia Governors Cup in 2009 and our 2007 Heritage, which spent a further year in bottle, won a platinum medal at the San Diego International Wine Competition. In 2008 Cabernet played a supporting role, largely in part to the growing season. What followed 2008 were, in my mind, two of the most outstanding vintages of recent years. I am in the minority when I say that I believe the 2009 vintage to be stronger than 2010. Yes, 2010 made incredible wines, richly extracted and brooding, but I think that over time the 2009 wines will age better and longer in the bottle. In both years though, we produced and bottled a single varietal Cabernet. No blending, no over manipulation on my part, just good wines that reflect the place in which they were grown, blessed by a fantastic growing season. Both wines share similarities in that they were both fermented without the addition of commercial yeast, aged for 22 months in barrel and unfiltered and unfined going into the bottle. It does give credence to the role climate plays since both wines are remarkably different from a flavor point of view. The 2010 Cabernet, which just won a gold medal at the San Francisco International wine competition and is available for purchase in limited quantities, is definitely the brute of the two, a large wine with sappy dark fruit on the nose, inky in color and tremendous power on the palate. The 2009 Cabernet is the ballet dancer, a bit more graceful and elegant, just as powerful but with a silkier feel to it. I see these wines aging well past 10-15 years. Cabernet is not supposed to do well here. I heard way back that Virginia could not make reds; whites were okay but the reds were weak. So how is it that we can make something that has gone on to win double gold and gold medals at the San Francisco International Wine Competition in California, competing against wines that have the clear advantage in what is considered the largest and most prestigious competition in America? Let me offer my take (and none of it has to do with the winemaker).
Our soils are weak and that is good.
We have done some soil mapping and have found a unique soil that makes up 50% of the Estate. Our soil on which the Cabernet is planted is alluvial based, with rock and shale deposits and very little clay. The soil is extremely well draining and hence the root system of the vine is deeper since it has to go down further to source water. The shale and rock also absorbs and radiates heat to the vine which aides ripening. Why do you think more Merlot is planted on the clay and limestone soils of the right bank and the Cabernet more planted on the gravelly soils of the left bank? The vine is also naturally a low producer of fruit since the soil does not support a lot of vegetative growth. What you get is a small crop of small berries with intense flavor that lead to richly extracted wines. The winemaker's role in that situation is to not screw it up! The other factor which is largely overlooked is the age of the vine. Planted in 2000, these vines are now 14 years old and are starting to reach their full potential. Can we make Cabernet every year? The honest answer is no, since we are at the mercy of mother nature. We have, however, produced a Cabernet wine five times in the last seven years and our 2013 vintage might just be the best one yet. That in itself is a victory for the Virginia wine industry. Ask me today if Virginia can make reds, hell yes we can- and world-class reds to boot! Many producers tend to focus on blends and many a viable argument is made why blended reds are the future for Virginia. It is hard to disagree from a philosophical standpoint. But now that have proven we can make a Cabernet that can compete with some of the big boys out west, that will always be our goal and dream- to make a world-class Cabernet that represents not only Keswick, but also the quality of Virginia.

We never intended on making a Verdejo wine; the fruit was sold off to another winery because, quite frankly, we felt the wine to be uninspiring and rather bland. It so happened that when half our Viognier crop was lost due to the Easter Weekend frost in 2006, we kept the Verdejo fruit out of necessity, and so began one of our most successful and widely anticipated wines we currently produce. Such was the response to this unknown grape from Spain's Rueda region, that we have increased our acreage thereof and see it is one of our most important wines moving forward.
If Viognier and Sauvignon Blanc had a baby, it would be called Verdejo.
The wine is sharp and focused with mineral accents and vibrant flavors of stone fruits with some salty undertones, yet it has a textural quality and richness I associate with Viognier. It is versatile with a variety of dishes, but easily enjoyed on it's own during the warmer months. I have fallen in love with this grape and the wine and am very excited about the future.
In the harvest of 2012, following the rather challenging harvest that was 2011 [note the subtle sarcasm], we harvested perfectly ripe Verdejo. We also picked some Viognier intended for our entry level Les Vent d'Anges brand Viognier the same day. Harvest went well, the fruit was clean and 12 hours later the fruit was sitting in cold storage. I had a plan for processing and the press was prepped and cleaned for receiving the fruit the next morning; home time!
Do you ever get a feeling when something is not quite right, a feeling in your gut that the stars are just not aligned perfectly? Driving to the winery I had such a feeling, no reason why but just did not feel too good. I am pretty sure a refrigerated truck is supposed to cool fruit, imagine my surprise and few choice words when I discovered that our truck was actually heating the fruit and that the inside temperature was 88 degrees, LOVELY.
Previous processing plan out of the window, new plan: toss the Viognier and Verdejo fruit together into the press and then deal with it in the winery. And so ladies and gentleman, our newest addition, the V², was born. Our intention with this wine was to try and mimic the previous Verdejo versions that were more Sauvignon Blanc in character, showcasing green apple and stone fruit tones. I think what ultimately saved the day was the fact that our LVD Viognier grapes are picked a little earlier and do not exhibit the floral and tropical aromas usually associated with the grape.
The blend came out at 51% Verdejo and 49% Viognier and after fermentation and racking, started to really grow on me. The problem with wine nowadays is that consumers want what they had previously and the challenge with this wine was to re-introduce and re-brand the Verdejo grape and wine. We decided to bottle this wine early since it was 100% tank fermented, thereby giving it a few months in bottle before releasing it. The name V² represents the two varieties that make up the wine and with much trepidation was released to the public in early April.
Instant success; you loved it! It was quickly snapped up in the tasting room and then we started getting asked "When will the next one be available?". Oh No, no next one, this was a once off thing due to a mistake in the ..., who am I kidding? The next one is being released next weekend the 14th of June. How do you deny your customers? You don't. We make wine for people to enjoy and get excited about and if they loved the first V², they will love the latest version.
The blend is Viognier heavy this year, with only 19% Verdejo and as such the wine is richer and more complex. The Verdejo plays an important role in that it provides the acidity and minerality, that ultimately keeps the flashier Viognier in check. The wine was fermented in tank and saw no oak. I used a South African yeast, widely used for Sauvignon Blanc production. After minimal handling, protein stabilization and sterile filtration, the wine was bottled April 5th 2014. After 2 months in the bottle, it makes its long awaited and much anticipated appearance in our tasting room. It is a different style than the previous version and each year the blend will differ slightly, what remains the same is that this wine is just good.
I love the V², I really do and my hope is that when you taste it, you will love it too. Let me know what you think.
Kindly
Stephen Barnard
Winemaker
Keswick Vineyards

Customers always want to know what my favorite Keswick wines of all time are, interesting question! I have found out that Virginia is not the easiest place to grow grapes and make wine.
We have vintages that allow you to make world class wines, and you have vintages where you have to use every resource and ounce of experience to make something palatable that will sell in the tasting room. Sometimes creating such a wine is the most rewarding experience, since I can be proud of the wine, knowing the origin and state of the fruit that I had to deal with.
So allow me to give an honorable mention to the 2003 Chardonnay, the only white wine to win a Governors Cup Gold medal in the 2004 competition. The 2003 growing season could only be described in one way: WET! Summer brought sunny, warm weather with only occasional rain., but that all changed when Hurricane Irene passed over the region in late August and the remnants of Tropical Storm Lee came just two weeks later. It helped that our Chardonnays are made in more of a French style, focusing on lower sugar levels and healthy acidity, so maybe the chemistry of the fruit helped to some extent. At any rate, this was a manufactured wine that I could be proud of, having known the growing difficulties and the state of the fruit when it came to the winery. Wine quality is judged by recognition by competitions and wine writers, and, more importantly, by your customers. So here follows in my opinion the best 5 wines I have made at Keswick Vineyards.
[5] 2007 Chardonnay Chardonnay has been the one wine that we have tinkered with over the years, trying to hone in on a style that we think best represents our site. We now focus on tank fermented Chardonnays that are matured in oak for 8-10 months prior to bottling. I was delighted when I looked back at my notes and realized the 2007 was fermented in tank and matured in oak, 50% French and 50% American. I remember loving this wine off the get go, but had the chance to re-taste the wine in February at our Open That Bottle event. The 2007 showed the best of all the Chardonnay wines in the flight and was just gorgeous. The oak was so well integrated with the fruit and the wine had developed some gorgeous baking spice aromas such as cinnamon and clove. The hallmark of this wine though was the texture. The wine was layered and complex, but bright enough due to the acidity. After 7 years in the bottle, this wine has developed and and is reaching optimal drinking age. If you have the wine you could probably hold onto it for another year or two, but drinking it now will not be a disappointment. One of my top favorite white wines of all time here. Honorable Mention: 2008 Chardonnay Reserve and 2012 Signature Series [needs more time]
[4] 2009 Viognier It is no secret that I think 2009 was one of the great vintages of the past 10 years, producing as equally impressive wines as the 2007 and 2010 vintage. 2009 was a growers dream- a long growing season with fruit coming in perfectly ripe and clean, recipes for great wine. When you have fruit of this quality, the job of the winemaker is to represent in a glass all the good things the fruit has to offer. We made this wine as naturally as possible, the fruit was gently pressed and the juice was settled in tank for 2 days prior to being transferred to neutral French oak barrels. Fermentation took place naturally [without the addition of yeast] and was completed in 10 weeks, after which the wine got it's first sulfur addition to block the secondary fermentation. Other than filtration and protein stabilization, nothing else was done to this wine. Viognier is a gorgeous aromatic wine, and this example just exemplified all those characteristics. The oak came across in a brioche or almond manner, the acidity kept the wine bright and light on it's feet. The flavors were tropical with anise and apple undertones and it remains just as beautiful today as it did back then. Viognier wines are typically not knows as wines that you can age, but we have quite a few examples that defy that logic. This remains one of my favorite Viognier wines ever made at Keswick. http://www.winespectator.com/webfeature/show/id/43147 Honorable Mentions: 2002 and 2010 Viognier Reserve
[3] 2007 Cabernet Franc Reserve I have never been the biggest fan of Cabernet Franc, I find many of them to be under ripe and and packed with green bell pepper flavors. Some like that style and that is quite okay, but for me it's not an attractive quality in wine. I do not get the opportunity to work with 25 brix grapes all the time and when the opportunity presented itself to me in 2007, we were not going to let it go to waste. We aged this wine for 22 months in brand new American oak barrels and bottled the wine unfined and unfiltered in August 2009. Re-visiting the tasting notes, I found notes where I just said "WOW"- enough said. Time in the bottle has only improved this wine. I recently opened the wine for my brother in law at my house, a huge fan of Cabernet Franc. When someone gets that giddy about a wine, you know you have something special. The wine is still massively huge, with sweeter oak kept in check by ripe tannins with the underlying spicy character of the grape in the background. The wine has a dominant coffee note on the palate but cracked black pepper and dark fruits are all there too. This wine is incredibly complex and can probably see another 3-5 years in the bottle, but it is hard to not open it now. Honorable Mention: 2013 Cabernet Franc from barrel [this wine will be incredible when bottled]
[2] 2007 Heritage: 80% Cabernet Sauvignon and 20% Merlot Many consider 2007 to be the best vintage in Virginia, and it would be hard to argue with that considering the quality of the wines made here at Keswick Vineyards. We made a Heritage in 02, 04 and 06, so when presented with the chance to make another in 07 we jumped at the chance. Our Cabernet from that year went on to win the Virginia Governors Cup, but I always loved the Heritage. The blend was classically left bank Bordeaux, with a large portion of Cabernet dominating the blend, complimented by Merlot. We looked at Petite Verdot as a possible blender but thought less was more. Aged for 22 months in French oak barrels and then bottle aged for 15 months prior to release, this was a blockbuster of a wine. I implored customers to hang onto this wine, even though it was tasting wonderfully back then. So how about today? I have tasted this wine on a few occasions and I love it. It has developed a lot of that typical cigar box, leathery characteristics you get from aged Cabernet. The fruit of the Merlot is still lingering, although a touch more red than black. The wine is incredibly supple and dare I say it sexy, yes wines can be sexy. It was hard not to list this as my number one favorite wine of all time but it sure came close. Honorbale Mention: 2007 Cabernet Sauvignon [2009 Governors Cup Winning Wine]
[1] 2009 Cabernet Sauvignon This is going to cause a bit of a ruckus for sure, but it wins as my favorite wine of all time for a few reasons. Firstly it is 100% Cabernet, made up entirely of Estate grown fruit. Virginia is not really known as Cabernet country, and it is used mainly as a blender or has other varietals blended into it. Matured for 22 months in New French oak barrels, this wine was always a beauty. Some wines evolve into something special, this wine always showcased it's purity of fruit and hinted at how good it would be. Coupled with the fact that this wine is a pure expression of our vineyard, it has to be my favorite of all time. It is everything Cabernet should be. It is muscular with great big tannins surrounded by a wall of drippy black fruit, with acidity keeping everything in check and ensuring the wine remains vibrant. It was one of only 22 double gold medal winning Cabernet wines at the San Francisco International Wine Competition, competing in a field of over 500, mostly produced in California. It hints at what Keswick can do in certain years and now it is up to me to ensure we do it on a more consistent basis. If you have this wine, thank your lucky stars that you do. If you have more than one bottle, lets talk because I am always int he market for more. This is not just good Virginian Cabernet, this is just good Cabernet period! Honorable Mention: 2010 Cabernet and 2013 Cabernet from barrel [might be better than the 09] Whatever your top 5, we have been fortunate to make a few that could quite easily and proudly be added, think 10 Merlot, Malbec and Syrah for example. I think we can be incredibly proud about the wines we have produced, and proud that they were produced in Virginia. The trick is now to do them consistently and showcase what Keswick and Virginia is capable of. With the 2013 wines developing in the bottle, my top 5 favorite wines of all time list is sure to change soon. I would be interested to hear what your favorite Keswick wines are! Kindly Stephen Barnard Winemaker

I get asked all the time, "What was the harvest like and how would you describe the wines?" My response for the most part is, "wait for the wines and decide for yourself". Bottling time for me is actually quite a stress free day, in that my involvement in the wine officially comes to an end. As the wines mature in the winery, there is always room for reflection and doubt about whether you did the right thing in finishing them off. Did I add too little acid, are my sulfur levels correct and should I have bumped the residual sugar up just a little bit more? Constant questions we ask ourselves leading up to bottling day. By the end of the day, with all the wines in the bottle, there is nothing let for a winemaker to do to manipulate the wine, it is what it is and customers will love it or hate it. It was with great relief that almost 1900 cases of wine were bottled without incident on April 7th and 8th of 2014. This was the first bottling of the new 2013 vintage wines, wines that are made for early consumption and for the hot and humid months that define Virginia in May and June. As I am writing this, I am looking at the grey clouds and the pounding rain splashing on the crush pad, go figure. Of the 5 wines that we bottled, I am incredibly proud of one of them, I may even go as far as to say it was the best wine I made last year. That wine, believe it or not, is our new 2013 Rosé, made up entirely of Norton. Hold on a second here, did Stephen Barnard just say that his best wine he made was a 100% Norton Rosé? The winemaker that actually hates Norton and is quite open with his disdain for the grape? Yes ladies you heard correctly, the best wine I made in 2013 was our Norton Rosé.
It is not the best wine in the winery, but it is the best wine I MADE! I am a big believer in the fact that the best fruit produces the best wine. As such, when you have wonderful fruit on your crush pad, all you really have to do is nurse it through the various processes and allow the grapes and their quality to be reflected in a glass of wine. Those wines ultimately turn out the be the best, reflecting the growing season and the terroir of the vineyard versus the hand of the winemaker. We are not in California, however, and Virginia has a way of keeping you grounded. We have our good years but then we have our fair share of challenging vintages and sub standard grapes.
As was the case with our 2013 Norton. With the usual suspects causing issues [rain, lack of sunshine and short growing season], we also had the pleasure of dealing with damage caused by animals. The biggest culprits last year were the squirrels and the starlings. I was eventually being called Noah, since I had 2 of everything on the property. The starlings really went to town on our Norton, and no matter how much netting we used we could not keep them under control. We were losing a fair amount of fruit and the decision was made to pull the fruit irrespective of the chemistry and try and do something with it in the winery. For those of you who know a little about Norton, you will be aware that it has an excessive amount of acid when picked at even ripe sugar levels.
Imagine for a second that you now are faced with 14 brix [measurement of sugar] grapes on the crush pad, and that the berries taste like a warhead candy. Time for the winemaker to dig into his bag of tricks and make something of this. Making a red wine was just out of the question, the fruit had no color and I was not confident of us making something decent. In hindsight, I should have made a sparkling wine, but at that point the only thing I could think of doing was to make a Rosé. At this point I would like to take a moment to thank our sponsors Domino for the use of their sugar. After de-stemming and then pressing, the brix of the juice was adjusted to 20.5 and then transferred to American oak barrels for fermentation. We inoculated the juice with a yeast that partially degrades malic acid and primary fermentation was completed without any incident. Unlike our other white wines and Rosés of previous years, we inoculated the finished wine to initiate secondary fermentation [allowing the malic acid to turn into the softer lactic acid] because we were so concerned with the acidity of the wine overwhelming any fruit and oak.
I think it was mid March, when I really started to get excited about the wine. Having been in South Africa for 3 weeks, this was the first time I tasted the wine in a while and I really liked it. Considering the quality of the fruit and the issues we had to deal with, this wine was not bad. The nose was quite aromatic, with lots of red fruits. The sweeter American oak was starting to come though and the acidity was there, but way more balanced within the context of the wine. Most importantly though, the wine was not screaming Norton, most thought it was a Bordeaux grape, BIG PLUS! So after three weeks in the bottle, the wine finally makes it debut in our tasting room this coming Saturday at our Run for the Rosé event. In celebration of the Kentucky Derby, we will have games, a hat contest, delicious food from Black Jack's mobile soul food truck and, of course, great wine including our new Rosé!
I hope it does well, despite the fact that it is a Rosé and made from Norton. I can honestly say it was the best wine I made last year, and will be a great addition to our portfolio of wines we are currently pouring. Let me know what you think of it.
Regards,
Stephen Barnard Winemaker Keswick Vineyards

First and Foremost, a belated Happy New Year to all! I trust and hope that 2014 will turn out to be a very special year filled with happiness and all resolutions being met and exceeded. At Keswick Vineyards, most of the work is centered on the vineyard, ensuring we get all the pruning done before bud break in early April, but the wines and the winery still need some attention. The harvest that was 2013 was challenging to say the least, with a spring frost, a cooler than normal growing season and wildlife of biblical proportions testing the growers and winemakers across the state. I started calling myself Moses since I had 2 of everything on this farm eating the grapes.
The practice of leaving the wine in contact with lees dates back to Roman times, the chemistry behind this phenomenon was not clearly understood, but the positive effects of this practice were noticed. When wine is left in contact with lees, enzymes start to break down the cells, producing mannoproteins and polysaccharides which are released into the wine. Through a metabolic pathway, enzyme substrates [beginning molecules] are turned into some eventual product, in this case the proteins and sugars which in turn lead to fuller bodied wines with better mouthfeel. These products also react with phenolic compounds, reducing the astringency and bitterness of tannins, which in 2013 was a concern due to slightly under ripe fruit.
There is no formula or yardstick by which we measure how often we should employ these stirrings, at the moment we are doing it once a week and then tasting the wine to see if there are any distinguishable changes, either positive or negative. Negative flavors could be the reducing conditions discussed above, resulting in smells reminiscent of rotten eggs, which could reduce further, leading to potentially greater problems in the wine. At this point, a racking would be the simplest form of treatment, discarding the yeast in the vessel. Thankfully, the wines are showing a positive change and are definitely showing a richer texture than when we started so for now we will continue to monitor the wines and keep stirring. The Chardonnays are displaying a creamier texture with an almost brioche like flavor, a great counter play to the acidity and minerality that has become a hallmark of our wines. The reds have fleshed out a little bit, the wines are not as disjointed as they were a few months ago and there is a better balance between the acidity, fruit and tannin structure of the wine. Sometimes the simplest things have the most profound effect on the wine, in this case just stirring the wine constantly.
The bright spot is that after a year with one challenge after the other, the red wines are amazing and we expect to release a Heritage [our Bordeaux estate blend] for the first time since 2007 as well as a varietal Cabernet Sauvignon and Cabernet Franc, both of which look superb. The whites, as always, are consistent and showcase a character that we see each and every year. Still plenty of time to let these wine evolve and develop, but I am liking where they are right now and look forward to seeing where they will end up. Stay tuned Cheers Stephen Barnard Winemaker